USS Gurnard SS-254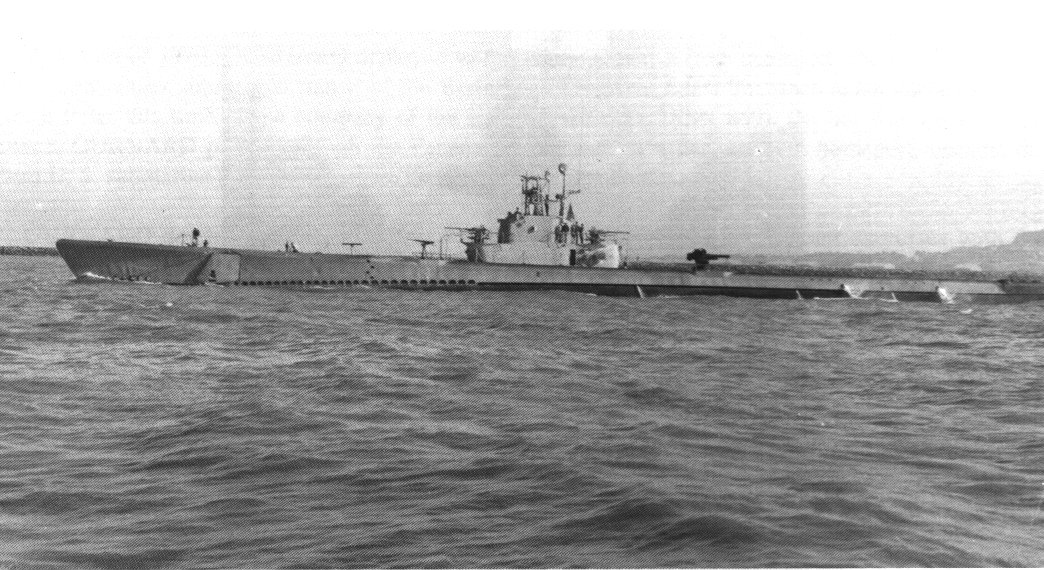 USS Gurnard SS-254 Battle Flag
Keel Laid 2 September 1941
Launched 1 June 1942
Commissioned 18 September 1942
Decommissioned 27 November 1945
Length 311' Test Depth 300'
Beam 27' Speed 20 kts
Displacement 2424 tons
Complement 6 officers and 54 enlisted
The USS GURNARD (SS 254) was built at Electric Boat Company, Groton, Connecticut. Her keel was laid on 2 September 1941. She was commissioned on 18 September 1942, Lieutenant Commander Charles H. Andrews, US Navy, commanding. After training out of New London, Connecticut, GURNARD was departed 2 November 1942 for Rosneath, Scotland, arriving the 15th. She got underway from Rosneath 28 November for her first war patrol in the Bay of Biscay. After 24 days on station without sighting an enemy ship, GURNARD returned to Rosneath 27 December. GURNARD departed Rosneath 25 January 1943 for refit in New London in preparation for Pacific duty.
Here are some great underway pictures: Some crew members getting some fresh air topside. Lookouts being very attentive. Bob Harwood has the Conn.. The CO Lieutenant Commander Charles H. Andrews takes a breather.
She departed Pearl Harbor 12 June 1943 on her second war patrol. The highlight of GURNARD's second war patrol was scoring at least two hits on a Japanese aircraft carrier. She returned to Pearl Harbor on 26 July, until underway again on 26 September for the South China Sea on her third war patrol. During the patrol GURNARD accounted for sinking over 10,000 tons of enemy shipping. She returned to Pearl Harbor on 28 October 1943.
Picture of Lieutenant Commander Charles H. Andrews getting Navy Cross from Adm. Lockwood for 2nd run.
Large picture of the entire crew of the Gurnard taken after the 2nd War Patrol.
Gurnard crew having fun at a Luau. Bob Giffen Engineering Officer doing a mean hula. Another Luau picture. And finally a picture of Frank Foulke. He is the one who provided all of these great pictures.
Underway for her fourth war patrol 28 November, GURNARD paused at Midway for engine repairs. A radar contact at 0400, 24 December 1943, led to an attack on three enemy cargo ships convoyed by three escorts. At 0710 GURNARD fired two torpedos at Cargo Ship SEIZAN MARU No. 2 (1,198 tons). Both were hits and the SEIZAN MARU sank in two minutes. GURNARD had to take evasive action to avoid being rammed as the two surviving merchantmen began maneuvering radically to avoid atack. Lining her stern tubes up on another cargo ship, the submarine fired two more torpedos which sent TOFUKU MARU to the bottom. Heavily attacked by the angry escorts, GURNARD went deep to withstand an 88 depth charge barrage.
Picture of Mt. Fujiyama taken Christmas Day during 4th War patrol. Two pictures of the Christmas Dinner menu December 25,1943. Bill Burwell, Commissary Officer, didn't serve the egg nog until he was sure it was just right. He had to taste it a number of times before he was sure it was just right.
Picture of the Gurnard returning from her 4th War Patrol as she comes up to the Golden Gate Bridge.
Standing out of Pearl Harbor 16 April 1944 for her fifth war patrol in the eastern Celebes Sea south of Mindanao, GURNARD was on station by May 4. Only two days later she encountered a Japanese troop convoy carrying an infantry division south from Shanghai. These troops were intended as reinforcements for New Guinea in the hope of stopping or delaying General MacArthur's expected offensive. Sighting the convoy on the morning of 6 May, GURNARD closed on the transports. In position at 1300, she fired two three-torpedo slavos which hit four of the Japanese transports. As one of the escorting destroyers headed for her, GURNARD went deep and rigged for depth charge attack. During the heavy depth-charge attack which followed, breaking-up noises were heard, indicating that GURNARD's torpedos had struck home. After the submarine had evaded 98 depth charges the escorts broke off their attack. GURNARD came to the surface shortly to discover one of the torpedoed transports still afloat and burning.
Shortly after midnight she shelled the stricken ship without results. Another torpedo finally sank the transport. GURNARD was credited with sinking transports ADEN MARU, TAIJIMA MARU, and TENSHINZAN MARU, with the loss of thousands of Japanese soldiers who would otherwise have been a formidable reinforcement for the New Guinea garrison. This blow is considered to have had "a material influence" on Japanese strategy in the New Guinea area.
Patrolling off the approaches to Davao Gulf on 18 May 1944, GURNARD sighted what proved to be "either a large cruiser or a battleship", zigzagging at high speed and escorted by two destroyers. Poor visibility made this fast target a difficult one; as GURNARD was about to fire, an escort passed close across her bow and forced her to delay shooting. Taking advantage of the last chance to fire, she discharged a spread of six torpedos. One of the poppet valves, designed to automatically flood to compensate for the sudden loss of weight when torpedos were fired, failed to function. To keep herself from broaching in full view of the Japanese warships, GURNARD "flooded negative" and went deep before she could observe the result of her shots. Two torpedo explosions were heard; the destroyers then unloaded a barrage of 32 depth charges, "some......too nicely place for comfort".
Picture of the Gurnard returning to Fremantle from her 5th War Patrol.
Picture of the Gurnard crew date not known.
Picture of the Gurnard Officers date not known.
Refueling at Darwin GURNARD ended her fifth war patrol on 11 June 1944. At this time GURNARD was awarded the presidential Navy Unit commendation for her second, third, fourth, and fifth war patrols. The sixth war patrol was made in the waters around eastern Indonesia and the southern Philippines. Much of this patrol was spent boarding and searching Japanese fishing craft looking for enemy spotters.
TME 2/C Glenn H. Milhorn remembers Penny the only female to make a war patrol on Gurnard. Penny was a great little dog. Bill Gleason and Bill Parks found her lost or abandoned in Perth. She was in pretty bad shape. The Pharmistist Mate doctored her up. She loved the crew and they loved her. She used to come leaping through the water tight doors into the after torpedo room. She would jump up on my lap and go to sleep. She had a good home but she did not like the depth charges. When we were under attack she weathered the storm under the pillow on Gleason's bunk.
The seventh GURNARD war patrol was spent in support of "King Two", the massive amphibious assault of Leyte. Her eight and ninth patrols were spent in wolf pack operations in company with HAMMERHEAD (SS 364) and BONEFISH (SS 223). During these patrols GURNARD encountered poor hunting and few contacts were made.
John Geck (Former CrewMember) recollections of his tour.
GURNARD (SS 254) was decommisioned 27 November 1945 and joined the Mare Island group, Pacific Reserve Fleet. GURNARD was moored at the Naval Reserve Training Center, Tacoma from 1955 to 1961. She was used to train recruits and veterans who were members of Submarine Reserve Division 13-6. Once a quarter an active duty boat came to Tacoma to take the reserves for underway training over a weekend. Other than batteries and screws most of the systems on GURNARD were operational. Her name was struck from the Navy list on 1 May 1961 when she was sold to the National Metal and Steel Corporation, Terminal Island, California.
Picture of the USS Gurnard Battle Flag